Back in 1949, Joseph Campbell, a follower of Carl Jung, wrote a book called The Hero With a Thousand Faces. It traced the story of the 'hero's journey' through the world's mythology, showing how every major tale, regardless of culture, shared common elements and archetypes. It detailled 17 quintessential steps along the mythic journey that every hero trod in some manner - what Campbell called the 'monomyth.' And it explained the archetypal characters along the route.
The book was one of many Campbell wrote about mythology and its role in human cultures, but has become his most influential, thanks to recent trends in both fiction and screen writing. The hero's journey has become the popular formulaic path for thousands of novels and movies. George Lucas' Star Wars is perhaps the most famous example of its use. But long before Campbell crafted his steps, or before Lucas followed them, authors were using the same pattern, albeit perhaps unconsciously. That's because, if Campbell was correct, the pattern is hardwired into our psyche. There is, he declared, something inescapably satisfying about stories structured this way.
There no exact match to the monomyth, of course. Components and characters are combined, dropped, shifted, reversed or altered in almost every tale - but the ideal, the generic pattern that defines the concept, remains. The structure runs in stories from the Sumerian legend of Gilgamesh, through Biblical tales, the Grail cycle, through Chaucer and Shakespeare, through Tolkein and Ian Fleming's James Bond novels, to Harry Potter and today's bestsellers and films. With Campbell as your guide, it's easy to break almost any story into the components he identified, and to see the patterns and archetypes.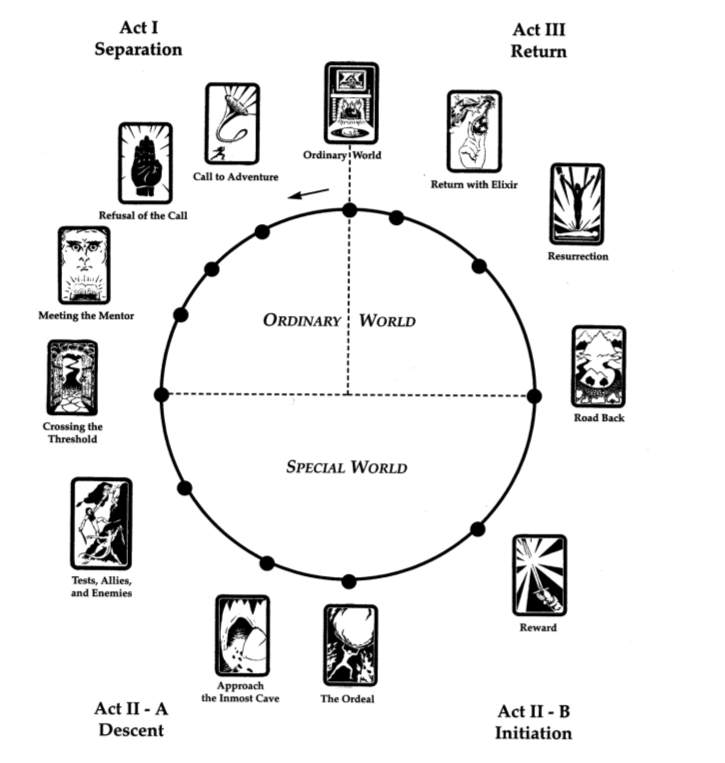 A slightly comic rendition of the hero's journey from
this site.
Below that are Campbell's original 17 steps in graphic form, from
this site
, compared below with a version of Vogel's 12 steps from
this site
. Both of these can be found in various other graphic versions online. Note that these latter two examples have a counterclockwise flow, while the first is clockwise.
The Hero With a Thousand Faces (THWATF) is not altogether an easy read. It's rich with Freudian and Jungian references, including significant belief in dream interpretation (which may have validity, but still strikes me as balderdash*). It's also quaintly and somewhat uncomfortably superior in its Western perspective, and it seems to me to border on racism at times. Campbell opens with, "Whether we listen with aloof amusement to the dreamlike mumbo jumbo of some red-eyed witch doctor of the Congo..." That strikes me as a less-than-politically-correct sentiment for our era. And his prose is often dense and florid in an academic fashion, making it difficult at times to read. Campbell was apparently not a follower of the Strunk-and-White school of parsimonious writing.
But Campbell's analysis and insight sweeps the reader away, if you stick to it. His vast knowledge of world mythology is amazing and it is difficult to argue against his well-documented theories.
Translating Campbell's ideas into a template for modern fiction or plays has been done almost ever since he wrote the book. George Lucas used it for his original Star Wars script (and possibly for his earlier THX-1138, but that's unclear). It wasn't until 1998 that anyone seems to have codified it in a form that would-be writers could follow in a step-by-step manner.
Campbell's 17 steps were divided into three sections:
A. Departure
1. The Call to Adventure
2. Refusal of the Call
3. Supernatural Aid
4. The Crossing of the First Threshold
5. Belly of The Whale
B. Initiation
6. The Road of Trials
7. The Meeting With the Goddess
8. Woman as Temptress
9. Atonement with the Father
10. Apotheosis
11. The Ultimate Boon
C. Return
12. Refusal of the Return
13. The Magic Flight
14. Rescue from Without
15. The Crossing of the Return Threshold
16. Master of Two Worlds
17. Freedom to Live
Campbell himself summarized these stages, writing that "Numerous myths from disparate times and regions share fundamental structures and steps":
A hero ventures forth from the world of common day into a region of supernatural wonder;
Fabulous forces are there encountered;
A decisive victory is won;
The hero comes back from this mysterious adventure with the power to bestow boons on his fellow man.
Christopher Vogel wrote "The Writer's Journey: Mythic Structure For Writers," in 1998, putting into layperson's terms the steps of Campbell's vision. For writers, his book became a bible of technique. Vogel conflated Campbell's ideas to a 12-step process, merging several of the original stages. The importance of Vogel's work was that he codified the structure in terms writers could immediately understand and use.
Vogel's conflation into 12 steps was this:
1. Ordinary World
2. Call To Adventure
3. Refusal Of The Call
4. Meeting with the Mentor
5. Crossing the First Threshold
6. Tests, Allies, Enemies
7. Approach
8. Ordeal
9. Reward
10. The Road Back
11. Resurrection Hero
12. Return with Elixir
Vogler, a Hollywood producer, actually put together his original thoughts about these steps in a seven-page memo, that he later expanded into his book. He explains in his book how this structure fits numerous popular films.
In 2000, James Frey reworked Vogel in his book, The Key: How To Write Damn Good Fiction Using The Power Of Myth, which puts the ideas into context with a story he includes to explain how the concepts work. Frey points out that the process isn't static: novels don't need to include all the steps in the same order, nor all the characters. Steps and characters can be moved, changed and combined as the author sees fit to best suit his or her story.
Others have used Vogel's' revised ideas to craft similar books about screen and novel writing, while others have gone back to Campbell to revise his vision to suit their presentation of the monomyth.
Jeff Howard's 2008 book, Quests: Design, Theory, and History in Games and Narrative, explores the same themes in computer gaming, with reference again to Campbell's work. It's a work all RPG designers should heed (and WOW designers should have been forced to read so as to avoid the dreary cycle of menial and meaningless quests the game presents to players!).
Phil Cousineau, in his book, The Hero's Journey, further reduced the process to a mere eight steps:
1. The Call to Adventure
2. The Road of Trials
3. The Vision Quest
4. The Meeting with the Goddess
5. The Boon
6. The Magic Flight
7. The Return Threshold
8. The Master of Two Worlds
Similarly, David Adams Leeming used a slightly different eight-stage process in his book, Mythology: The Voyage of the Hero, clearly leaning on the mythological and religious aspects of the process for his structure:
1. Miraculous conception and birth
2. Initiation of the hero-child
3. Withdrawal from family or community for meditation and preparation
4. Trial and Quest
5. Death
6. Descent into the underworld
7. Resurrection and rebirth
8. Ascension, apotheosis, and atonement.
Of course there is more to it than just these simple topic descriptions, but to get the breadth and depth of each step, and see how it relates to the monomyth and to each other step, you really need to explore and read further. There are many, many websites that explain these stages in considerably more detail, and apply Campbell's structure to a wide variety of subjects, not just literature or film. The journey has even been used in political analysis (see, for example,
this description of Sara Palin
on the hero's journey). It is, methinks, a trifle tongue-in-cheek.
Terms like goddess, rebirth, underworld are metaphorical. They do not necessarily have to be literal (unless you are writing about the underworld, of course!). Frey offers some examples where these terms suit everyday people, events and places.
There are numerous computer programs designed to help writers and novelists organize and structure their work along Campbell's design. For some, the hero's journey is one of several dramatic templates you can use, for others (like NewNovelist), it's the sole template. These programs will not make you a better writer, of course, but they do provide some useful organizational tools.
You can also create an organizational spreadsheet to help keep the story flow coherent and linked to the right stages, characters, timeline and locations.
Whether you're planning to write a novel, are working on one and want some structural guidance, or are just interested in understanding fiction and literature, you really have to have some appreciation of Campbell's vision. It's also a good yardstick for understanding how religious mythology and stories have developed.
~~~~~
* Freud believed dreams were the unconscious trying to resolve a conflict through expressed imagery: images in dreams are usually not what they appear to be, and needed interpretation for understanding. Modern theories suggest dreams are an evolutionary adaptation in which we rehearse behaviors of self-defence to get better at fight-or-flight in the real world. Others suggest sleep is how we separate the memories worth encoding in long-term memory from those we can afford to forget: making us wiser. Still others say dreams have no meaning at all, but are merely the random firings of an unconscious brain. Perhaps it's some or all of these.
The vast amount of dream interpretation available to the public is unrelenting claptrap of the most fatuous nature. For example, one site says "To dream that you are riding a bicycle means that you are feeling confused and unsteady. You should achieve harmony between all aspects of your life if you want to reach your goals. If you have difficulties riding the bicycle, then it implies that you doubt your ability to achieve success without assistance. To see a bicycle in your dream suggests that you should involve yourself in more relaxing and entertaining endeavors." Hogwash! Folderol! Superstitious claptrap!