What role does Earth's axial tilt play in the ongoing evolution of life on this planet? That question has intrigued me ever since the Japanese earthquake, this spring. I read that the quake had shifted our planet on its axis by 25cm - a minute amount on the planetary scale - but one that could have, as one story noted, "profound, if subtle effects on the length of the day and the passage of the seasons."
That make me wonder: what role does Earth's axial tilt play in the ongoing evolution of life on this planet?
Of course any continued change in seasons or day length will be reflected in the inevitable Darwinian manner, in the life on Earth. But by how much and how long will it take?
Our axial tilt of 23.4 degrees, as any school kid knows, is responsible for our seasons.* Our comparatively massive moon helps keep the tilt reasonably stable and prevents it from becoming extreme (it does have a cycle but it's not really relevant to our short lifespans). Our seasons are mild compared to what they might be if we had a greater tilt. At 45 degrees, we could have polar equatorial zones and temperate polar regions. With significantly less tilt, the habitable zones would be considerably reduced - poles would be colder, tropics much hotter, and violent storms the norm. No tilt might even render the planet uninhabitable.**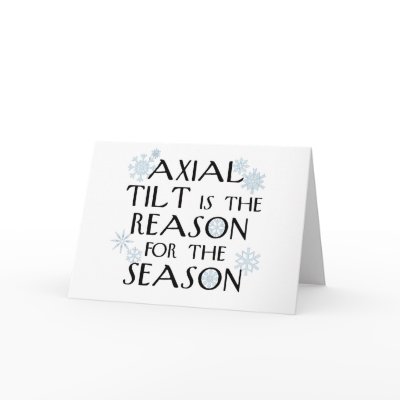 According to
Wikipedia
, "The Earth's axial tilt varies between 22.1° and 24.5°... with a 41,000 year period, and at present, the tilt is decreasing. In addition to this steady decrease there are much smaller short term (18.6 years) variations, known as nutation, mainly due to the changing plane of the moon's orbit. This can shift the Earth's axial tilt by plus or minus 0.005 degree." This is also known as the
Milankovitch cycle
.
Mars, which has only miniscule moons, has had a varied tilt from 10 to 60 degrees according to
this report
from Science Now. Right now it is about 25 degrees, close to our own tilt. Other planets in our system have greater and lesser tilts, showing that our particular angle of lean is not the norm.
The moon*** is also responsible for tides, which create an environment where life is submersed then exposed to air and sun regularly. Both the tides and the seasons are evolutionary drivers: engines that force adaptation. Both create regularly changing environments to which life must adapt or perish.
Astronomy Today
notes about tidal zones, "This is an environment in which organisms can experience the stresses and strains of an alien world before safely returning to their aquatic habitat, such changes possibly promoting the alteration and/or migration of organisms from one environment to the other. Hence the presence of the Moon to cause tides may well have sparked the spread of organisms from the sea to the land."
The tides and the tilt may not be necessary for the evolution of life (as a group of scientists have
recently simulated
) but they certainly contributed to and accelerated our own evolution. It is known that evolutionary radiations (a.k.a. major diversifications) are driven by environmental changes, which are partly driven by seasonal variations (the result of our axial tilt).
There are many articles available about how
climate change affects evolution.
But none I could find that specifically talk about axial tilt.
This site
reports a common theme: "Environmental conditions such as rising temperatures can affect both the way selection acts on a trait and the expression of genes controlling it. If the environmental effect strengthens selection or increases the genetic variance, then the rates of evolution should be accelerated."
Even Stephen Jay Gould, in his 1,400-page magnum opus,
The Structure of Evolutionary Theory
, doesn't seem to mention axial tilt as a factor (at least nowhere I can find). He does briefly touch on climate change, but axial tilt has more influence on life than merely climactic. The changing visibility of the stars through different seasons must have affected how birds, bats and other animals evolved navigation systems. The changing amounts of daylight would have had an effect on how plants and animals feed, move, sleep cycles, colouration, eye size and so on.
What I want to know is how - if at all - evolutionary biologists and paleontologists have identified the influence of axial tilt on both macro- and micro-evolution. Is it possible that an axial tilt similar to ours is a necessary engine for evolution? Is a tilt a requirement for the formation of life itself?
The Drake Equation doesn't get into such detail; as far as I know no one ever has included it in calculations about the probability of life developing (although it is considered important in the
Rare Earth hypothesis,
which counters Drake's optimism by suggesting Earth-like planets with life are rarities in the galaxy because of such particular factors as companion moon size, axial tilt and plate tectonics.)
It strikes me that our tilt is an important factor in how we got to where we are, biologically and perhaps even intellectually and socially. Without it, life might have evolved at a much slower pace, if at all. But I can't find anything to corroborate that notion.
Seems like I need to look deeper.
~~~~~
* Or not, if you choose to believeotehrwise, like these Harvard and other American university grads do. One can only shake one's head and weep for the decline of our education system in general, and scientific literacy in particular. They might as well chalk it up to magic or religious causes.
** The actual angle is 23.44 degrees, although I found a zany claim it shifted to as much as
49.5 degrees
and has "resulted in moving the Tropic of Cancer from central Mexico to Maine and across the Dakotas..."! Gotta love the Internet!
*** Judging by moon rocks returned from the lunar missions, the moon is only 10-30 million years younger than Earth, but not everyone agrees we have been in the orbital dance for that time. The moon, according to most theories has been our planetary companion for most of the 4.5 billion-year history of Earth. There are, however, some alternate ideas, such as this
lunar capture
hypothesis which suggests the moon was a free body captured by the Earth around the time of the Permian-Triassic boundary, 251 million years ago, which proponents say explains the massive extinction of some 95% of all life at that time. That, however, would not explain tidal
rhythmites
- fossil laminates that preserved tidal changes in much older rocks (as old as 2.5 billion years - see
this paper
and
this one
for reports on Pre-Cambrian data). The question of axial tilt, and the evolution of life without a moon is mentioned
here.