[indent]
My first thought while watching
the movie,
10,000 BC*
was, "Where are the dogs?" After all, dogs were, by this time, part of the same communal landscape as humans. They were domesticated at least 15,000 years ago. As
Wikipedia
notes,
Quote
Converging archaeological and genetic evidence indicate a time of domestication in the late Upper Paleolithic close to the Pleistocene/Holocene boundary, between 17,000 and 14,000 years ago. Fossil bone morphologies and genetic analysis of current and ancient dog and wolf populations have not yet been able to conclusively determine whether all dogs descend from a single domestication event, or whether dogs were domesticated independently in more than one location. Domesticated dogs may have interbred with local populations of wild wolves on several occasions (a process known in genetics as introgression).

The earliest dog fossils, two crania from Russia and a mandible from Germany, date from 13,000 to 17,000 years ago. Their likely ancestor is the large northern Holarctic wolf, Canis lupus lupus. Remains of smaller dogs from Mesolithic (Natufian) cave deposits in the Middle East, dated to around 12,000 years ago, have been interpreted as descendants of a lighter Southwest Asian wolf, Canis lupus Arabs. Rock art and skeletal remains indicate that by 14,000 years ago, dogs were present from North Africa across Eurasia to North America. Dog burials at the Mesolithic cemetery of Svaerdborg in Denmark suggest that in ancient Europe dogs were valued companions.
Horses, on the other hand, weren't domesticated that early, but the evil raiders ride some pretty well-heeled horses. Again, from
Wikipedia
,
Quote
The clearest evidence of use of the horse as a means of transport is from chariot burials dated c. 2000 BC. However, an increasing amount of evidence supports the hypothesis that horses were domesticated in the Eurasian steppes (evidently centered in Ukraine) at approximately 4000 BC.[1]
Giant, flightless, predatory birds, as seen in the movie's only truly exhilarating scenes, were real. However, not in 10,000 BCE, and not in Europe or Africa close to that time - they were in the Americas, and they roamed them around two million years ago.
MSNBC
reported:
Quote
A 7-foot-tall prehistoric bird with a monster-size noggin arrived in North America from South America long before a land bridge connected the two continents, a new study reveals.

The flightless, carnivorous terror birds — that's what scientists call them — likely hopped to North America via islands that came to form what is today the Isthmus of Panama, said Bruce MacFadden, a paleontologist at the Florida Museum of Natural History and lead author of the research.

The terror bird, Titanis walleri, belongs to the Phorusrhacid family and holds the record as the largest predatory bird known to have existed. Weighing in at a ground-shaking 330 pounds, it had a head larger than yours.

Past studies of skull and leg bones revealed the bird had a speedy stride and a deadly bite — it could chomp down on dog-sized prey with its hooked beak.

"We found that the Titanis fossils were 2 million years old and not 10,000 years old as had been suggested," MacFadden said. "This also shows the last known occurrence of Titanis in the fossil record and reflects its extinction."
In Europe, there was instead, the fierce
Diatryma
:
Quote
Gastornis parisiensis measured on average 1.75 metres (5.7 ft) tall, but large individuals grew up to 2 metres (6.6 ft) tall. The diatrymas had a remarkably huge beak with a slightly hooked top, which was taken as evidence suggests that it was carnivorous. Gastornis had large powerful legs, with large, taloned feet, which also were considered in support of the theory that it was a predator.
<snip>
The diatrymas were among the largest, if not the largest birds alive during the Paleogene. They had few natural enemies and serious competitors apart from other Gastornis or then-rare large mammals, such as the predatory bear-like Arctocyon of Europe. If these huge birds were active hunters, they must have been important apex predators that dominated the forest ecosystems of North America and Europe until the middle Eocene. The mid-Eocene saw the rise of large creodont and mesonychid predators to ecological prominence in Eurasia and North America; the appearance of these new predators coincides with the decline of Gastornis and its relatives. This was possibly due to an increased tendency of mammalian predators to hunt together in packs (prevalent especially in hyaenodont creodonts). The fact that no birds appear to have ever weighed much more than half a metric ton suggests that they were restricted in their ability to evolve to larger and larger sizes, and thus in their ability to out-evolve apex predators by sheer bulk as mammals are often able to do (see Cope's Rule).
But there were no people around when Diatrymas terrorized mammals:
Quote
The problem with these trace fossils is that no fossil of Gastornis has been found to be younger than about 45 million years. The enigmatic "Diatryma" cotei is known from remains almost as old as the Paris basin footprints (whose date never could be accurately determined), but in North America the fossil record of unequivocal diatrymas seems to end even earlier than in Europe.
There were really sabre-tooth tigers too -
Smilodon
- at the time of the movie, true, but they too were North American predators, not European, or African:
Quote
Smilodon ... sometimes called saber-toothed tiger is an extinct genus of large machairodontine saber-toothed cats that lived between approximately 2.5 million to 10,000 years ago in North and South America.
A somewhat similar, but smaller, cat lived in Eurasia, the
Homotherium,
but it died out 30,000 years ago:
Quote
Homotherium is a machairodontine saber-toothed cat genus that lived approximately 5 million to 10,000 years ago in North America, Eurasia and Africa. It first became extinct in Africa some 1.5 million years ago. In Eurasia it survived until about 30,000 years ago. The last scimitar cat survived in North America until 10,000 years ago.

Homotherium reached 1.1 m at the shoulder and was therefore about the size of a lion. Compared to some other machairodonts, like Smilodon or Megantereon, Homotherium had relatively shorter upper canines, but they were flat, serrated and longer than those of any living cat.
Sadly, because it's one of the better computer animations, we only ever see one Smilodon.
Mammoths
did roam Northern Europe around 10,000 BCE, at the end of the last Ice Age (their smaller cousins, the mastodons, roamed North America around the same time), but were never in Africa, and were pretty much extinct by the time of this movie:
Quote
Mammoths (Mammuthus primogenus) were a species of ancient extinct elephant. Mammoth adults were about 10 feet tall at the shoulder, with long tusks and a coat of long reddish or yellowish hair--which is why you'll sometimes see them described as woolly mammoths. They roamed Northern Europe and, eventually, North America.
Mastodons (Mammut americanum) were also ancient, enormous elephants, slightly smaller (6-10 feet tall), no hair, and restricted to the North America continent. Both of these megafauna died out at the end of the Ice Age, about 10,000 years ago, as part of the great megafaunal extinction. They were hunted by people, and various archaeological sites have been found around the world where the animals were killed and/or butchered. Mammoths and mastodons were exploited for meat, hide, bones, and sinew for food and other purposes, including house construction.
Mammoths were not, however, domesticated into chunky pack animals, as they are shown in the movie.
And for a film set so close to the end of the last Ice Age, you have to wonder, where's the ice? No one even mentions it. Surely that much ice would have played some party even if only in memories and generational tales.
Okay, so the science in this movie is as bad as a creationist's tirade against evolution. If that was all, and the rest of the movie stood up, it wouldn't matter (Jurassic Park, for example, was based on suspect science, but was otherwise a great film). Unfortunately, 10,000 BC is riddled with equally serious flaws in all its other areas, not least of all its plot.
First of all, there's the geography. Where the hell does it take place? The Americas? Europe? Africa? Middle East? Seems like all of them, and they're all within a few weeks' walk away of one another. At the end of the movie, the Africans give the northerners some seeds to grow their own crops. Want to bet Saharan plants will have a rough time adapting to the icy winters of the mountains where the tribesmen come from? Hint: try to grow an avocado out of doors in a Canadian winter.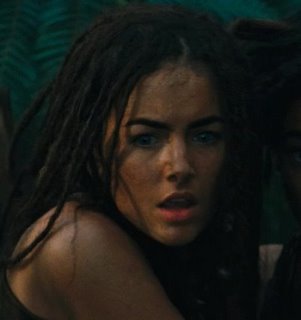 And the mascara on the female lead runs when she cries - I'll bet prehistoric women didn't have that much Maybelline around back then. Or waxed legs and shaved armpits. It's almost funny that the characters start out looking primitive and dirty and graduate to clean cut and Hollywood-groomed before too long. The more time they spend being roughed up, beaten and dragged through the forests, the better they look!
The "good guys" all speak a stilted English, and the bad guys speak something that sounds like a mix of Arabic and Serbian (but look definitely Arab-ish in a not too subtle post-9/11 way). And then there are these Indian Hindu priests running the Egyptian show that just flummox the viewer.
It's tough to figure out the Mother-Hunter-Shaman-Lost Father-Prodigal Son, Mark of the Outsider, Alien Gods, Coming-of-Age tangle of archetypes because they never really come clear. It's a sort of heroic epic, but it's pretty lose in its handling of the Joseph Campbell cycle.
Then there's all that pseudo Egyptian-Atlantis stuff that is plain awkward. Towering pyramids and massive temples - plus a Sphinx - 12,000 years ago defy archaeological records that show the mega-building period in Egypt took place around the same time Stonehenge was being built - 2,500-2,300 BCE. The river (we assume it's the Nile) has not a single stick of green anywhere near its shores, yet the Nile banks are lush and lined with trees. You know: dates, palms. Back then, there would have been a lot more greenery in Northern Africa, but in far too many scenes all we see is sand. Guess it's easier on the CGI.
Sure, had this been a remake of Conan, or Burroughs' Pellucidar, the whole thing cast as a fantasy, it would have worked so much better and we would have overlooked the anomalies (well, maybe not the Atlantis silliness, but the rest...). The film wears pretensions towards realism, which only makes it easier to stumble and fall when you veer from that.
You'd think a movie that mixes prehistoric monsters with studs and babes in leather loincloths would be fun stuff, but it's a dreary, overly-long flick that is both predictable and bland. We want fights, action, we want big teeth and brave warriors, gripping tension and great passion. Instead we get romantic twaddle and clichés (like that she's dead-she's alive-but the spirit mother died for her bit at the end), token action and long walks in the fog of angst. The plot is so basic it could have been written on the back of a business card. Filling in the long stretches between the action with panning shots of spectacular scenery is a wonderful technique. Once or twice. Use it sparingly and we'll follow you. Use it every second shot and we'll groan in agony for it to end.
10,000 BC is more BS than BC. For that, I give it one-and-a-half star out of five. The extra one-half is because I liked the diatrymas.
* We would more properly call it 10,000 BCE. Or more accurately, 12,000 BPE. At least the producers didn't serve us up some mish mash about the mythical "Flood" in with their Atlantean nonsense.
[/indent]