[indent]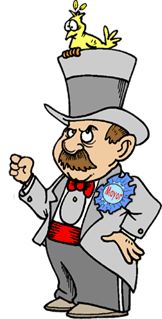 My, wasn't the mayor petulant
last night. He took my motion about the
NVCA
budget like a personal attack on his cherished
NGO
. He's often irritable, grumpy and argumentative at the table - especially with me - but last night was the first time I've seen him in a it's-my-ball-play-by-my-rules-or-I'm-going-home mood.
It all started when I asked to pull two items from the consent agenda - the section of the agenda that deals with incoming correspondence (you can read these two pieces in
the PDF form of the agenda
- A6/P30 and A13/P60). Both pieces are from regional municipalities - Essa and Clearview - with their motions to ask the Nottawasaga Valley Conservation Authority (NVCA) to reconsider its proposed budget increase for 2009.
The NVCA's average budget increase for 2009 is 6.1%. Because of the way the NVCA weights its charges, municipalities get higher or lower levies depending on how much of the watershed there is in their area. Collingwood, with its waterfront and many creeks and streams, would see an increase of almost 8%. That means the increase alone is over $14,000 for us. I had raised concerns over this amount of the increase at previous budget discussions. The proposed 2009 levy is just shy of $200,000, the third highest in the watershed (but the highest percentage increase of all).
I respect the work the NVCA does, and have spoken positively about the organization in the past. But at a time when the global economy is so shaky, it behooves all agencies and organizations to keep a tight rein on their budgets. We need the province to take up more of the responsibility for funding (currently member municipalities fund 46% of the NVCA's budget, the province only 22%).
In their letters, both Clearview and Essa Townships asked the NVCA to revisit the numbers and reduce the increase to under 3%. That's not being confrontational: it's respectfully asking for the agency to apply the same considerations to its budget that all municipalities are trying to apply, and keep the increases to a minimum.
Last term, our current mayor had just one committee responsibility: the NVCA. He was elected its chair late in the term. This term, he is one of the two council representatives on the NVCA's board (with Councillor Foley). So he obviously feels passionate about it, and just as obviously feels the need to defend it when anyone at council even suggests something that might be construed as negative or challenging. In fact, most of us walk around like we're on eggshells every time the NVCA is mentioned because we're likely to set off a tirade, should any comment about the NVCA not be deemed supportive or laudatory enough.
*
Like last night. I had the two letters pulled for open discussion. You might recall that "openness, accountability and transparency" thing bandied about during the election campaign (and of which we have seen so little this term). That action seemed to send the mayor into a tizzy of petulance and irritability.
I recommended that council pass the same motion as the two other member municipalities. Before the recommendation could be seconded, the mayor waded in, loudly arguing with and chastising me for daring to make such a suggestion. I told him it was improper for him to debate an issue that was not on the floor - he's always such a stickler for process when it's in his favour - but he ignored my point of order and continued to argue with and berate me. Ah well, what's the real value of having a procedural bylaw anyway?
Eventually, when he stopped to take a breath, Councillor Jeffrey seconded my recommendation. But even after his torrent of initial comments directed at me, he continued to argue as each councillor spoke in support of it.
**
The mayor uncharacteristically warned that, if council approved my recommendation, there would be "consequences." He later added that he would not honour the will of council
***
even if we voted in favour of my recommendation, and would vote the way he felt was best for the NVCA.
****
And, in what can only be described as a pout, he told council that we had two weeks in which to decide if we wanted to replace him as the representative on the NVCA (the NVCA budget vote comes up Feb. 13). I suppose that is the 'consequences' he warned us about. That motion didn't come up (although in retrospect it would probably should have - I feel the best response to bullying is to stand your ground).
Councillor Foley, the other representative on the NVCA board, also said he would ignore the will of council and vote how he saw fit (i.e. in favour of the NVCA's increase). Can you imagine how the mayor would react if any other member of council openly defied a council resolution and voted against what council had collectively decided was the best course of action?
Eventually, my recommendation to send the NVCA the same resolution about lowering the proposed increase to 3% passed. It was a recorded vote - 6-3; the mayor and Councillors Sandberg and Foley voted against it. One can't grumble about that not being a significant majority. It was two-to-one in favour of my recommendation.
But of course it will make little difference what council democratically decided, since both representatives - the mayor and Counc. Foley - publicly stated they would ignore the will of council, and would vote the way each saw fit. L'etat c'est moi.
~~~~~
*

There's a certain irony that the mayor so passionately defends the NVCA, which gets 23% of its revenue from user fees charged to developers, while he passionately leads the expensive legal battle against the school boards for charging development charges.


**

Unlike the previous mayor, our current mayor is prone to argue with councillors, wading into debates right at the start before any member of council has a chance to speak, and doesn't hesitate to argue and berate councillors in a manner he won't tolerate from them in return. In his inauguration speech back in 2006, one reported noted "Carrier had kind words for his new council team. "You have elected a council whose resumes show a commitment to community service," he said. "I ask you to never hold back an opinion. Those who were here before left us a legacy." But when we do express a c contrary point, he argues with and chastises us.


***

If you were at the inauguration of this term, back in late 2006, you may recall the mayor's "I'm just one of nine" speech: "Carrier in his inaugural address as mayor told the crowd in his closing remarks that you elect not one person but nine people and those nine people share the ownership of decision." Little did any of us realize how quickly it would become L'etat c'est moi! Last night he told council quite clearly what level of respect he had for our collective will and that "ownership of decision." I've always felt this to be the case, but last night he said it in public.


****

Most of us believe - as I pointed out in my counter-argument - that as elected representatives, we represent council on a board or committee, not the reverse. From his comments in the heated debate, I feel the mayor very much believes he's there to represent the interests of the NVCA, not council.
[/indent]