[indent]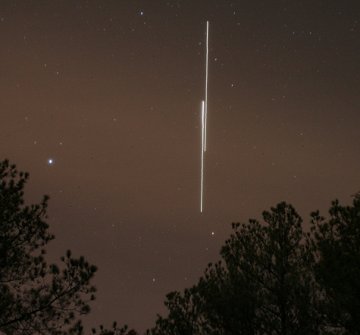 Did you catch sight
of the International Space Station last night, with the shuttle Atlantis undocked and trailing in its wake? Happened about 6:20 p.m. EST, almost directly overhead. Luckily the cloud cover had broken and the two could be clearly seen in a transit of 5-7 minutes, travelling roughly NW to SE in the night sky.
I was fortunate enough to be outside walking Sophie when it happened. It's not her usual walk time, but last night I was at the store late and had just come home.
Double fly-bys are rare, and happen only when the shuttle docks or undocks with the ISS. And, of course, both have to be in conjunction, overhead, on a cloudless night. So last night was an event to be remembered.
For me, it's pretty exciting. I can still remember standing in my back yard in October, 1957, with my father, and seeing the tiny dot of the first Sputnik moving in the sky. Back then, we all figured we'd be living on a space station or on the moon - maybe even Mars - by now.
This is the fourth time I've caught the ISS in transit this year. It's bright enough to identify quite easily, but so fast that the window to see it is very short. You can use the
NASA ISS tracker
to find out when it will be back next. There are other online trackers such as
Heavens Above
, or the
ISS tracker
which offers real-time images. The
Canadian Space Agency
offers information about how to track the ISS using online tools. The
European Space Agency
(ESA) also has tracking info to help you plan for future sightings.
Atlantis will land in Florida, tomorrow (Nov 27).[/indent]