[indent]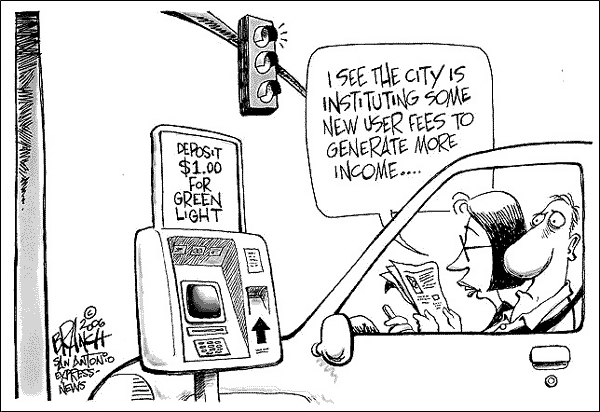 Every year council votes
on the rates for fees and services for the coming year. Sometimes we even debate them, assuming that people around the table actually read the 35 pages of densely-packed tiny type plus the attached staff report (starts with the staff report at page 115 in the
Dec. 14 agenda
) .
These fees include a lot of hidden taxes and charges that don't show up on your tax bill but may still hit you in the wallet.
Most of the charges are cost-recovery items. For example, when someone applies for a report or a property inspection, that person pays the cost, not the general taxpayer. That's a fair system, for the most part. Of course, in many cases, those costs get passed along to the consumer (like fees developers pay), but that's out of council's hands.
Other charges - like sewer and water charges - pay for the upkeep, maintenance and growth of our infrastructure. The utility services were projected for a 15% increase in 2010, but staff looked at the still-unsettled economy and wisely opted for a 2.5% increase. Too bad the McGuinty Liberals didn't have that same sort of wisdom when they rammed through their HST tax grab!
But other fees strike me as mere tax grabs. Like Ontario's new business-hurtful HST.
The cost for a limousine licence jumped from $500 to $2,500. While that may make those licences closer in price to a taxi licence ($5,000), the abrupt increase will be a big hit to the budget of the current limo drivers. Why not phase it in so that taxi and limo licences are on par in, say, three or five years? I know I'd be hard pressed to come up with an unexpected $2,000 at the start of the year.
Look at the charges for owning a cat (p. 128 of the agenda). It's $20 for a cat, even if the cat doesn't go outside. That's an egregious tax grab, and pretty close to impossible to enforce. Frankly the whole cat bylaw is nonsense and should have been scrapped years ago. Sending bylaw officers out on calls to police untagged cats is a huge waste of time and effort.
I recommended we waive the fee for the first year for people who get a pet from the pound or animal shelter, but that was derailed (it might come back in the budget debate
*
). In general, I've found trying to get things of this nature through - like funding for the animal shelter - difficult to impossible.
Councillor McNabb got all huffy about the $25 fee assigned to home owners if they request a bylaw officer trap a cat on their property. McNabb said he was concerned that fee would encourage property owners to snatch the cat, drive it to the outskirts of town and dump it. Why the councillor would suggest people in Collingwood would pursue a blatantly illegal, immoral and inhumane act was beyond me. I have, I believe, a better view of my fellow residents. But he repeated it (as is his wont) several times, - that could be misconstrued as if he were actually encouraging such action. Very disconcerting, and I said so.
Then McNabb recommended that the owner of the cat be charged instead - that was passed by council (I voted against it). The problem, I pointed out, was really feral cats, not those owned by responsible residents. In response, McNabb then recommended bylaw officers hunt for the place where these feral cats are living and charge the property owner! He even wanted the owner charged if the property was unused and the owner was unaware cats were living there! That was - in a rare moment of collective common sense - defeated.
Imagine charging someone for the actions of an animal they neither owned nor were aware of. Next thing we'll be charging people for birds singing too loudly on their property!
For me, the bigger problem is not our pointless cat bylaw, but rather the attitude some people have towards cat ownership (and pet ownership in general). Not every pet owner treats it as a responsibility. Some think it's a right that comes with no responsibility.
Have to move and the cat can't come? Open the door and let it out, then drive away. Cat becomes inconvenient? Sheds? Scratches the furniture? Drop it on a roadside somewhere on the edge of town. Too lazy or stupid to neuter your pet so it has bad behaviour or unwanted litters? Dump them somewhere. Give them to the humane society. Anything to avoid responsibility. The Georgian Bay Animal Rescue has some 500-600 unwanted cats in its care (from the region, not merely Collingwood).
That's not what McNabb was commenting on - he was talking about neighbours catnapping a pet and taking it somewhere they hope it will die.
The better solution would be for the municipality to be proactive in its animal policies. Investigate in low-cost or even free spay and neuter clinics and responsible-pet education programs. We could educate more landlords to allow pets, rather than ban them. Find ways to discourage or even ban backyard breeders.
Instead, we have opted for the inefficient and ineffective, punitive approach of fining people.
Of course, it's the responsible pet owners who pay the licence fees and fines, not those who would dump them so they face a lingering, painful death: starvation, cold, hit by cars, attacked by other animals and so on
**
. Those people seldom get fined (but should be!).
Me, I'd dump the entire cat bylaw and user fee system. It doesn't work and serves no useful purpose.
The pet licence fees go up after March 15 by $10 per licence. I realize this is meant to encourage people to buy licences sooner, but won't it instead encourage some people who delay (like my snowbird customers who aren't back in town until April) to simply not bother getting a licence that year? Further, the price drops $10 on July 1 for a "new" pet. Why wouldn't pet owners wait until July 1, then claim their pet is "new" and save $10? After all, we don't have a database of pets to compare with, year to year.
Again, I think educating people about responsible pet ownership and encouraging them to get a licence is wiser than simply bludgeoning them with additional fees.
Then there's the $125 administrative fee for investigating a complaint about an in-camera meeting. Many municipalities don't charge for that and instead pass the complaint along to the free Ontario government investigator. Not Collingwood. We want to be sure we deter anyone form looking behind the screen. I've fought this fee ever since it as instigated (this term - which says a lot about our "openness"). I voted against the fee package in part because of this charge.
I voted against the 2010 fee structure - and was alone among my colleagues in doing so.
~~~~~
*

Speaking of the budget - we were supposed to be getting the draft budget BEFORE the year end. Like November. But it's nowhere in sight. Our budget committee - chaired by the mayor - is curiously silent on why it has been delayed this year.


**

Before moving here, 20 years ago, I was a volunteer then employee at the Toronto Humane Society for several years. I think I encountered pretty much every level of pet abuse and irresponsible ownership in those years.
[/indent]