ACCORDING TO THE 2006 CENSUS, the average age in Collingwood is 46. Almost 30% of residents are between 45 and 64, and just over 22% are 65 and over. More than half the local population in Simcoe County is older than 45.* That means we are locally, on average, a greying population.
So why do some local radio stations play music aimed at the 13-to-20 year-old market, especially during the day when those kids are still in school and can't listen? Aren't these stations missing a huge and potentially lucrative target audience? Aren't their advertisers missing a potentially large market, too? Which group has the money?
What music do people 45 and older want to hear? A wide range, it seems: classic rock, jazz, blues, country. Frank Sinatra. Tom Jones. Bob Marley. The Beatles. Stevie Ray Vaughan. Spa music. Classical. Opera. Ruth Brown. Dinah Washington. Bob Dylan. Robert Plant. Barbara Streisand. Rod Stewart. Nora Jones. Neil Diamond. Molly Johnson. Pavarotti. At this age, musical tastes have matured and often broadened, so we're not straight-jacketed into any one style or sound: we want music that suits our moods, not music that dictates our mood to us.
Although musical tastes are personal and subjective, seldom do people over 45 want to listen continually to the trite pop, hip-hop or urban/rap stuff that often gets local air play. But what can they tune to? Yes, to the CBC, but what about something that also has local news and other local content?
As
this site
notes,
Quote
In 1990 more than 70% of music sales were to those under 30 years of age. now with iTunes the biggest segment isn't teenagers but people over 45. Boy bands don't sell well to people who already have developed musical tastes and collections.
Boy bands, girl bands, quasi-rap, and kiddie music. Derivative, boring, dull pap. Formula music, pop stuff selected by a computer from a list of safe tunes. Tune in to any of several local stations and you'll hear it. It's not the sort of music I would think would appeal to our demographics.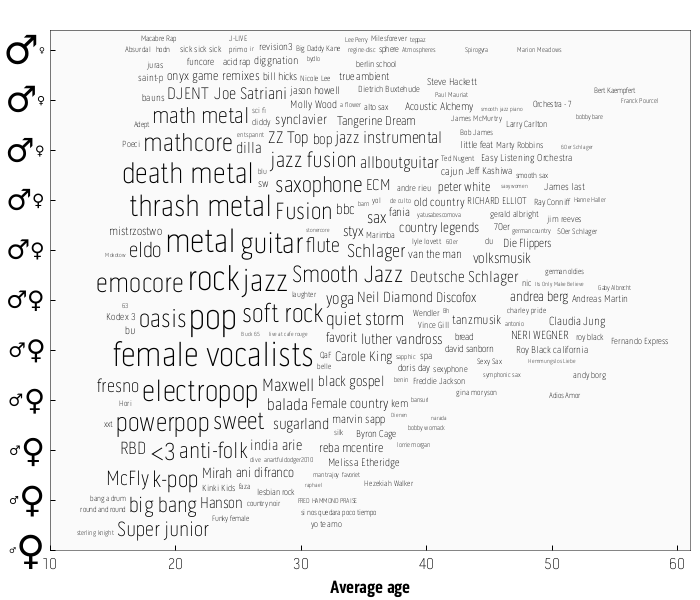 As I write this, I'm listening to Bluesville on XM satellite radio. There's no local radio station that plays anything equivalent: no blues, R&B or jazz, so we subscribe to satellite radio to get music that fits our tastes and preferences. The closest thing to our tastes locally is The Dock, out of Midland - playing "classic rock" from the 1960s-80s. But as much as we like the music it plays (we grew up with it), we also want variation, not a steady diet of the same songs or same format.
This sort of thing has been charted by many companies and agencies for the past two generations and continues to be measured and analysed.
Last FM
in the UK, for example, has its own figures from its listeners- the image above is taken from their recent results. Their online station is predominantly pop-oriented, though, and the results reflect that (i.e. they don't offer specially broadcasts of blues, jazz, classical, etc., so aficionados of these styles of music will not likely be filling in their forms about personal taste as often as purveyors of pop music will).
Toronto-based FM station,
the Jewel
(88.5) defines itself as catering "...to the music tastes of the rapidly growing 40+ age demographic and plays the best music ever recorded from such artists as Barbra Streisand, Neil Diamond, Frank Sinatra, Rod Stewart, Richard Abel, and Norah Jones. The Jewel plays timeless easy-listening unforgettable hits, and 88.5 The Jewel is the only station dedicated to providing instrumental music as part of its programming." Sounds like our own local demographic and a more appropriate mix for this region than Lada Gaga or her ilk.
A piece on
MusicVoid
asks, "Why do record labels spend so much on marketing to the younger demographic with the lowest disposable income instead of adults with a larger disposable income?" The author notes, "This dramatic growth in people older than 45 demonstrates that profitability will be increasingly dependent on ever older audiences during the next decade... the majority of new releases today are still aimed at the tween and the 14 – 24 year old market segments whose tastes were developed in the hip hop era. Yet more recorded music is being purchased by an older audience who clearly prefer the artists of the 60s, and 70s (The Beatles, Led Zeppelin and Elton John etc) to those of the alternative rock and hip-hop generation."
However, the author overlooks the importance of other styles and flavours of music, including jazz, classical and world, to the 45+ market. Sure, we have all the Beatles' albums an most of the Rolling Stones', but our collection of Putomayo world CDs is equally large, and I believe you'd find similar trends in taste among people our age - the majority of local residents.
Of course, a single radio station can't cater to every taste - even the CBC, with its broad brush ad wide-ranging programming, can't please everyone. But surely the local demographics could be better used when deciding what age groups to appeal to when playing music.
Satellite radio at least gives us some focused choices (as does the selection of channels available in some cable TV network packages). With satellite radio, we can choose dozens - literally - of stations that appeal to our current tastes and mood. Turning on local radio, I often get cookie-cutter selections of dreary pop repetitiveness, few if any of which tunes I consider little better than advertising jingles for originality or talent.***
As a personal note, we regularly listen to a lot of music: from world to R&B to jazz, to classical and Rat Pack crooners: not just one style or sound. A road trip to Toronto might include CDs of Latin dance, Beatles, Dinah Washington, Joni Mitchell, ZZ Top, Gary Moore, Ashwin Batish, Rolling Stones, Vivaldi, Charlie Mingus, Leo Kottke and Tito Puente to pass the time. Evenings are often spent listening to music while reading, working on the computer, doing jigsaw puzzles, cooking, or just chatting. Weekend morning chores are often accompanied by a background of Vivaldi, Bach, Corelli, Scarlatti or other classical composers. We want our broadcast radio music to reflect our eclectic taste, as well, not just one particular mood.
Most of the people we know have similarly wide tastes in music, and would not like to be pigeonholed into just one format all the time. As people mature, they branch out, they learn more, and their tastes expand. This has been furthered by the availability of tools to open new horizons - iPods, iTunes, MP3 players, Internet sharing, YouTube, Web radio, satellite radio, etc. What would have been seen as an eccentric taste in music a generation ago now is often mainstream, with a worldwide audience.
What does your musical taste say about you? That's another fascinating area of study. As
this site
notes about a recent study, "...participants believed that music revealed as much or more about themselves and others than other activities. In fact, hobbies were the only types of activities that revealed as much about people as their musical preferences... people really do use musical preferences as indicators of personal qualities, Rentfrow and Gosling next sought to map out the dimensions of those preferences. They started by identifying different musical genres, using a free-association task with five judges, and then getting more information from music stores. This process yielded 80 different musical genres, which were then divided into fourteen, with 66 subgenres. Using these genres and subgenres, Rentfrow and Gosling developed a questionnaire they called the "Short Test of Musical Preferences," or STOMP, which they gave to participants along with several personality measures. Participants also completed the STOMP a second time three weeks after their first testing, to measure the test's retest reliability... our music says a lot about who we are, and that we can make pretty accurate judgments about what people are like based solely on the music they like."
I know I've made a few snap judgments about people based solely on the volume and type of music I've heard as they roar by in their car with windows open and sub-woofers cranked up to max.
One forum
commenter wrote,
Quote
...music is a way to communicate with the people around the globe. Music does not have any language and we just need to feel it. For instance, when I listen to different types of music from different parts of the world, I find some of them amazing and heart-touching. Therefore, I try to find the lyrics of them and their meanings. In this way, I get a chance to know more about other people, their points of view, the way they look at the world, and even the problems presented/situated in those countries.

Secondly, music can change our moods and take us to another world. A world full of happiness, love, and stress-relief...

To put all in a nutshell, as humans need food to fill their stomachs, they need music to nourish their souls. Music can also unite people from around the world.
As another writer says, "Actively listening to music can be a wholesome, enriching activity..." But of course it has to be music that speaks to you, touches you in some manner, music that opens doors to your intellect or soul. Not merely background crap best suited for musical noise in shopping malls and elevators.
Music should also be an exploration, a journey into new territory. It should make you pay attention, to follow where it leads, especially when it goes into areas you are not familiar or even comfortable with. Variety is, after all, the spice of life and without variety our lives would be insufferably dull.**
What nearby stations play local musicians or local indie groups regularly? What local radio stations music of artists like Dave Wipper, Aaron Garner or Jason Redman? I can't think of any. How then do local musicians and groups get started and develop an audience? Predominantly through playing at bars, I guess, plus word of mouth among the bar circuit. Why shouldn't local radio stations be their champions and showcase their talents more? Wouldn't it be nice to have a show once a week of nothing but local talent? That's another topic, I suppose.
Writing about how NPR boosted its audience in the 1980s,
David Giavannoni
said, "Programming is the form in which programs and other elements are presented. Good programming consists of related strategies designed to maximize audience tune-in and to minimize tune-out." Is it good programming to constantly play music the local 45+-year-old will tune out?
I think the problem starts with the CRTC, which wants to pigeonhole radio stations into a restrictive format, rather than let them range all over the spectrum. The CRTC seems to be afraid to allow radio stations to set their own formats, and change them to meet the changes in local demographics or tastes by playing what their audiences want. In the age of the Internet, social media, and iPods, these strikes me as a very anachronistic attitude.****
The other problem I see is the corporate ownership of the media business. In general, corporations are suspicious of change and resist innovation. They also tend to react to market indicators and trends with the speed of glaciers. And far too many stations do their programming selections by computer, rather than by humans.
~~~~~
* See
Simcoe County's site
. Rather bizarrely,
Homefinder.ca
lists Collingwood as having, "Total Population:58,214, Total Population(2006):53,232, Total Households:23,793, Total Households(2006):21,504."
StatsCan
has the actual figures: 17,290 population (full time), 9,316 private dwellings.
** In my store, I used to play CDs from other countries - Mexico, Chile, Thailand, Italy, France, India, the Middle East and others - they're as exciting and appealling to me as trying foods from these nations. It was always interesting to see the reactions from people in the store hearing, say, Spanish-language music or Arabian music. Some liked it and embraced it. Others rolled their eyes and shuddered. One of my younger staff members always hated it when I played this music: she was never able to get past the language barrier and hear the music itself. For her, it seemed, anything not immediately accessible was alien and suspect.
*** The CBC is, of course, different and good about providing a wide range of sounds and tastes, but daytime CBC Radio 1 has too much talk, too much Toronto, and not enough musical variety during that time.
**** I've admired the CRTC for many things, such as its insistence on Canadian content, but there are many things about it I regard with disdain, including its Inquisition-like need to control things like the Internet and radio formats. It looks like prudish 19th century attitudes being applied to 21st century technologies. And it should stop allowing the mega-corps to control telecommunications and allow more small-scale competition.