It's pretty easy to make fun of American education these days. There are viral videos on YouTube that paint a bleak, even frightening, picture of the average American unable to locate Iraq on a world map, unable to identify the name of a country beginning with the letter "U", the religion of Buddhist monks, and so on. Rick Mercer did several editions of his "Talking to Americans" show which had similar displays.*
But this month American public education suffered a blow that should not only generate more mockery and lampoons, but confirm for many outside the US the abysmal decline in American standards. Not to mention the continuing ascendancy of the religious right in politics.
The State of Tennessee - a Republican-dominated legislature - has recently approved teaching creationism** in state schools. Can anything be more pointless and backwards? I expect they'll be teaching astrology and alchemy in science classes too. And phreonology and iridology in medical schools. Why not? Astrology and alchemy, at least, have some vestiges of science in their history, while creationism has none. Story on
CBS News
.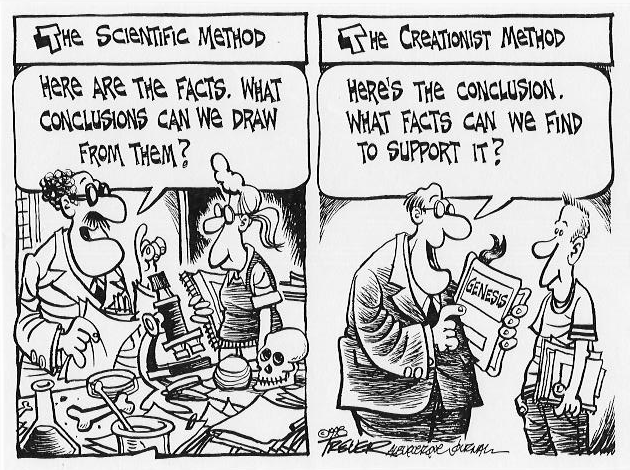 According to the CBS story, Republican representative and the bill's sponsor, Bill Dunn, said the legislation was designed to promote "critical thinking" in science classes. I have to admit that raised a chuckle. Critical thinking is not a term used in reference to creationism. The bill demands state schools and administrators "create an environment within public elementary and secondary schools that encourages students to explore scientific questions, learn about scientific evidence, develop critical thinking skills, and respond appropriately and respectfully to differences of opinion about controversial issues." It also contains a provision saying that "teachers shall be permitted to help students understand, analyze, critique, and review in an objective manner the scientific strengths and scientific weaknesses of existing scientific theories covered in the course being taught."
The law is carefully worded so as not to promote any particular doctrine, but the intent is clear. While it might seem fair to some (but not to anyone familiar with the battle over teaching evolution in Tennessee - recall the famous "Scopes monkey trial" fictionally portrayed in the film, Inherit the Wind), the "thrust of the proposed law would elevate creationist theories about human evolution to the same status accorded by most educators to Darwin's research," the CBS story notes.
The bill opens the door for creationism because it states, "The teaching of some scientific subjects, including, but not limited to, biological evolution, the chemical origins of life, global warming, and human cloning, can cause controversy... Toward this end, teachers shall be permitted to help students understand, analyze, critique, and review in an objective manner the scientific strengths and scientific weaknesses of existing scientific theories covered in the course being taught... Neither the state board of education, nor any public elementary or secondary school governing authority, director of schools, school system administrator, or any public elementary or secondary school principal or administrator shall prohibit any teacher in a public school system of this state from helping students understand, analyze, critique, and review in an objective manner the scientific strengths and scientific weaknesses of existing scientific theories covered in the course being taught." (
source here
)
In other words, crackpot ideas, myths, religious beliefs and all sorts of flimflammery could be taught with equal validity to proven science, and possibly instead of that science. Hence my earlier comment that astrology could be given the same status in state education as astronomy, alchemy as chemistry and phrenology as neurology.
Not that this was entirely unexpected. The gubernatorial race in Tennessee in 2010 had three Republican candidates vying for the job, all outspoken creationists (the Democrat in the race was ambiguous). (
See here
and
here
for details).
In an
interview
after the bill was passed, Dunn said, "This is just about using objective scientific facts." Objective and scientific are not words usually used when describing creationism. But Dunn didn't write the bill himself. It came from the Family Action Council of Tennessee (FACT), a group which describes itself as "a grassroots network of concerned citizens" whose mission is "to promote and defend a culture that values the traditional family, for the sake of the common good."
Metropulse
reports that FACT is one of 36 "Family Policy Councils" in the USA "fully associated" with CitizenLink, the lobbying arm of the powerful, conservative Christian organization, Focus on the Family. FACT spent $267,258 on lobbying activities from 2006 to 2009. In 2010, the FACT annual report states the group was formed "by ministry partners of Focus on the Family who saw the need for a statewide organization devoted to identifying, educating, and mobilizing Tennesseans and churches to respond to growing concerns about a wide array of policies at the state and local level negatively impacting the family and religious liberty."
FACT actively promotes Focus on the Family's "The Truth Project," a "DVD-based small group curriculum comprised of 13 one-hour lessons … Each lesson discusses in great detail the relevance and importance of living the Christian worldview in daily life." Lesson five, "Science: What is True?" notes: "Darwinian theory transforms science from the honest investigation of nature into a vehicle for propagating a godless philosophy … A careful examination of molecular biology and the fossil record demonstrates that evolution is not a 'proven fact.'" Lesson nine tells viewers, "The civil magistrate must always remember his place under the sovereignty of God." FACT's agenda in promoting this bill is pretty clear.
So much for the constitutional separation of state and religion. The uber-right Republicans (the Tea Party) behind this agenda have campaigned for similar changes in other US states. They are adamant about plunging ahead to force public education to kneel to their particular religious viewpoint. In the
Ashville Citizen Times,
, Republican Jim Summerville warned Tennessee's teachers to 'mind their own business where education reform is concerned': "We will bend public education to our awe, or break it all to pieces."***
A sad day for Tennessee, a sad day for Americans. This is the nation that put men on the moon, and built the space station. It's the nation that pioneered hundreds of advancements in medicine, oceanography, paleontology and physics. We all deserve better than the nonsense these creationist legislators foist upon us.
~~~~~
* For example:
This video
. And
this one
. And
this one.
Way too many to list here. Worth exploring for fun, but don't take them too seriously. A handful of fools doesn't make a whole nation stupid, even if there are so many Republicans among them. Should a US TV network ever decide to do a "talking with Canadians" episode, we might be equally humbled.
**
Creationism
is a religious belief dating from Augustine of Hippo, that every word of the creation story in Genesis is literal truth. Creationists believe in the first myth only, since the second version in Genesis 2:4 to 2:25 is not only different, but significantly contradicts the first. Literal inetrpretation, as opposed to allegorical, was promoted by Martin Luther and other Reformation preachers, but has stubbornly hung on through to today. In 1650 the Archbishop of Armagh, James Ussher, published his chronology that gave a date for creation of 4004 BCE. Ussher was likely influenced by the then-popular belief that the Earth would only last only 6,000 years (4,000 before the birth of Christ and 2,000 after). A contemporary, Dr. John Lightfoot, calculated that creation occurred at the autumn equinox in 3929 BCE. Even today, in the face of mountains of geological, chemical, astromonical, physical and biological data,
"young earth" creationists
(40% of Americans) insist the world is less than 10,000 years old.
Why blindly follow just the first version of the story when there are two? Creationists are not known for their critical thinking, but they believe they can harmonize these inconsistencies. Still, you have to ask, im the first myth, how was light is created before stars that generate it? How could birds appear before land animals when the fossil record shows they are relative latecomers?
What about the differences between the two myths? Myth one says God created the universe in six days. Myth two, in many translations, has creation in
single day
. In myth one, fruit trees and animals appear before before Adam and Eve, but in myth two Adam is made first, then the fruit trees and animals appeared, then Eve.In myth one, "the waters bring forth ...fowl" but in myth two they are formed "out of the ground". In myth one, fish appear on the fifth day, but in myth two they're not even mentioned. How, you have to wonder, can these glaring inconsistencies be reconciled?
Creationists are often called biblical literalists. But that's misleading: they may believe in the literal truth of their own translation, but not of the actual Bible, since few if any are conversant in the languages of the Bible itself - ancient Hebrew, Greek, Aramaic. You have to be able to read and understand the original languages to believe in its literal truth. Creationists believe in a particular translation or interpretation of the Bible.
According to Wikipedia, the percentage of people in the USA who believe in evolution declined from 45% in 1985, to 40% in 2005. Gallup polls reported that 40% percentage of people in the US believe in a strict interpretation of creationism (falling from a high of 47% in 1994 and 2000).
Creationism is also known by its subterfuge name, "intelligent" design.
*** See
this story
on Tea Party poster girl and creationist, Christine O'Donnell, who has been quoted saying, "too many people are blindly accepting evolution as fact." O'Donnell's political mentor is Sara Palin, who ran for the post of Vice President in the last US presidential election. In Texas, home of the creationist ex-president, George W Bush, the
Institute for Creation Research
sought state accreditation to grant masters' degrees in creationism, See
here
. The school board turned them down, and the ICR lost two court challenges over that decision.